Taco Palenque's "Big Sabor" (translation: big flavor) has helped them grow from a small independent restaurant in Laredo, Texas to one that has locations across South Texas, including San Antonio, Houston and the Rio Grande Valley. But when it came to their website, the flavor tended to leave a bad taste in their visitors' mouths.
A Better User Experience
At first glance, Taco Palenque's old site had a decent aesthetic, but it did not offer a strong user experience. Slow load times and a confusing locations tab were two of the primary concerns.
"With any website, we want to go above and beyond for our clients," said John King, Imagine It Studios CEO. "Taco Palenque is no different. They needed a website that was not only a visual reflection of their business, but also had the functionality to easily provide visitors the information they were looking for."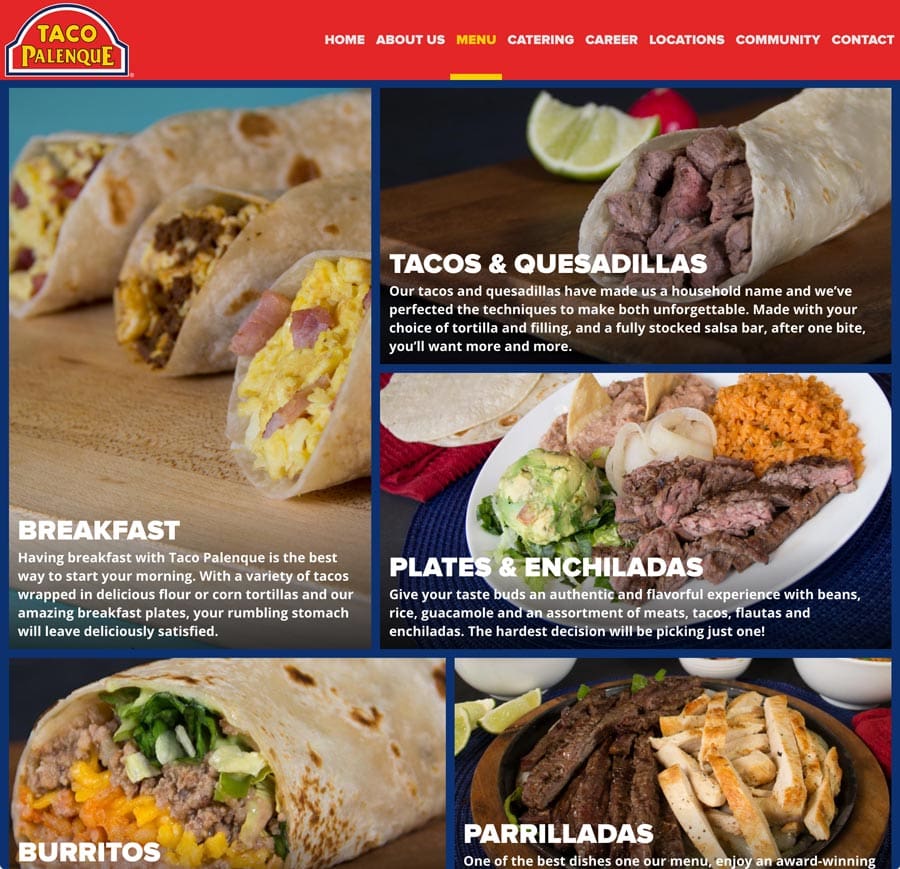 Accessibility
Load times are a crucial component of a good user experience. The old Taco Palenque site took over six seconds to load. "Six seconds doesn't sound like a long time, but for websites, that's an eternity," said our lead developer, Cesar Gonzalez. "If a website is not built correctly, you will often see longer load times. So, whether it's utilizing proper compressions, caching, coding, etc., we go through a checklist of items to ensure maximum speed. In this case, we were able to improve Taco Palenque's load time from over six seconds to just 2.1 seconds!"
Another key element of the user experience is keeping visitors on the site longer. Because of this, we created items such as a detailed menu, catering requests, a gift card sale portal and a secure employment application process. Since the new site's launch, Taco Palenque has received numerous inquiries for employment and catering without any technical issues.
In addition to the catering and employment inquiries, Taco Palenque's menu played a key role in the redesign. "This is a restaurant that people crave, so of course our focus had to be on the food," said King. "Quality images are crucial for any restaurant. We want people who visit the website to have their mouth's water and get them to crave eating there for their next meal."
"Utilizing images from the Taco Palenque marketing department, we created a mega drop-down menu that is visually-driven and allows you to see everything for each category," Cesar added. "Visitors will receive a more dynamic experience with the new menu style while easily locating what they need. And thanks to our content team, the descriptions of the menu items are much more enticing."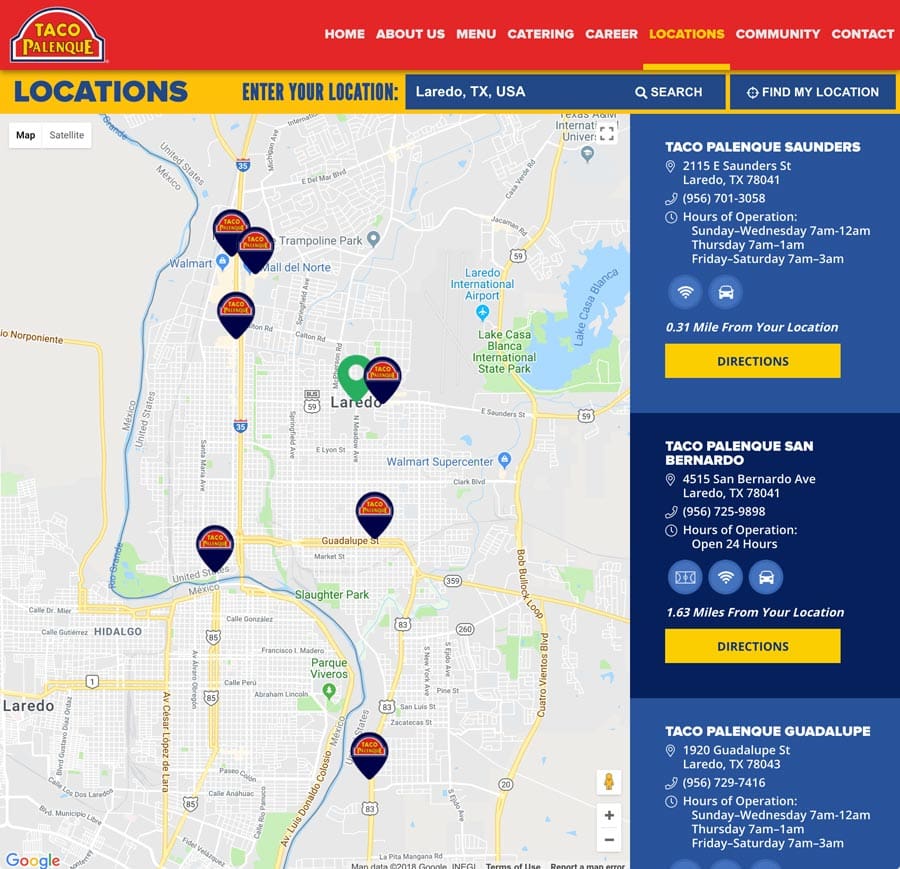 Mapping
Arguably the biggest concern was the functionality of the maps showcasing their locations. With restaurants in Laredo, San Antonio, Houston, New Braunfels, and from McAllen to Brownsville, helping customers find their nearest location was imperative. "The old website mapping was confusing," Cesar explained. "It would use a Laredo location as its default selection even if you were hundreds of miles away. That's not helpful to anyone.
"We've tailored the experience for users on-the-go with various geo-location features that can help users quickly find their closest restaurant. Now, no matter where you are, the website will utilize the GPS on your smartphone, tablet or laptop and automatically find the closest restaurant."
Common Goals
In the end, Taco Palenque loved the finished product. "We love our new website," exclaimed Patricia Barreto, Marketing and Guest Relations for Palenque Group.  "Impressive work and a great team. They were able to provide us with solutions in such a short period of time. We recommend their service 101%!"
As with any site, our goal at Imagine It Studios is to have your's be an extension of your brand. We work diligently to make sure that we deliver a finished product that your company will be proud to show. If your website needs to update its user experience, please contact our digital marketing agency in McAllen today!