The World Cup is in full swing and now nearing its final stages, so where can you pour your sadness over an eliminated team or share your jubilant opinions on a beautiful golazo if it's not on Facebook? The public's love for the world's most popular sport has produced over a billion interactions on Facebook, skyrocketing the World Cup into becoming the site's most-talked-about event in history.
Get Your 'Like' On
Facebook revealed the likes, comments and posts concerning the World Cup were made by 220 million people, or 17% of the website's users. Sporting events from previous years have proved to be no match for the World Cup in terms of communication generation. Despite its length, the Sochi Winter Olympics managed to generate 120 million interactions from 45 million Facebook users, while this year's Super Bowl produced 185 million interactions from 50 million people.

The World Cup's popularity on Facebook has grown due to the high amount of interaction star players have generated. Players like Brazil's Neymar (da Silva Santos Júnior ) and the United States' Tim Howard have prompted interaction from Facebook users by posting pictures and messages that call for support from fans from their respective nations.
Take Advantage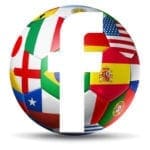 The World Cup lasts a month and in that time, it has managed to become the event everyone seems to be talking about. The powers of social media are amazing and your company could be taking advantage of it all. Don't know how to do that? Don't worry, Imagine It Studios has you covered.
Our social media department knows everything about the process of building your business's online presence. From creating company awareness to transforming web traffic into profits, our team is skilled in building cross-platform strategies that can get your company on the digital map.
You Mark the Spot
It's time to show your business off to the world. If you're looking to come out of the shadows and make your presence known, Imagine It Studios is here to help. For more information about our wide array of services, contact our office in McAllen today.