Our talented team at Imagine It Studios is brimming with the spirit of thanks, and as such, we would like to give a tribute to our founder and CEO, John King!
Thank You From Our Web Department
Our McAllen web design team works hard year-round to ensure your website is efficient, beautiful, and represents your business.
"I am so grateful for having been able to spend the time I've had at Imagine It Studios, learning many new things along the way, and for John King. He helped us all keep a steady head and kept us afloat from the trying times we had during the pandemic."
-Belinda Gonzalez, Web and Graphic Designer
"Since starting at Imagine It Studios many things have changed in my life. From losing loved ones to becoming a father, John has always been there to support me. Having a boss like John is hard to come by these days. That is the reason I am always trying my best to better myself and Imagine It Studios. Thank You!"
-Bradley Gamboa, Lead Web Developer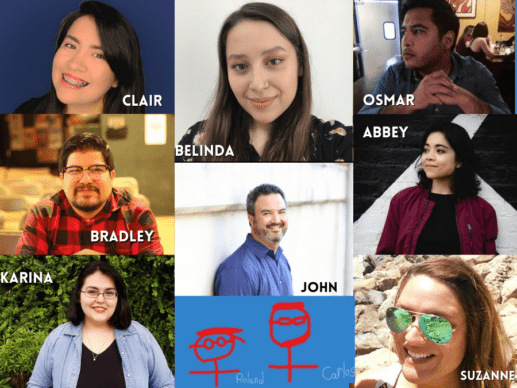 Thank You From Our Social Media Team
Our social media team helps your business gain an online presence and increase engagement through all social platforms.
"You know you're at the right place when work doesn't feel like a burden – but a privilege. From filming Valley icon Delia Lubin to editing a commercial for the Valley Symphony Orchestra, there's always new and exciting challenges just around the corner. The foundation of this unique experience is, of course, owner John King. John leads by example and makes each one of us feel like a part of a team. He's innovative, spirited, and listens to ideas. I'm delighted to work and learn with such a highly regarded professional."
-Carlos Ibarra, Social Media Strategist
"I've been working in the marketing industry for over 5 years and have heard the name John King in passing very often. When I had the opportunity to work for Imagine It Studios I was thrilled to work with the man that I have heard so much about. Even though I am new, I am excited to learn from the man that has been a part of so many campaigns throughout the valley."
-Roland Hernandez, Social Media Strategist
"Never in a million years would I have imagined I'd be lucky enough to be where I am now. Since the first day I began working at Imagine It, you've nurtured my creativity, you've allowed me to take leadership, and you've celebrated all of my successes with me. You are the only boss I've had who not only steps up to the plate but also is generous enough to share a piece of the pie. Thank you for everything."
-Clair Martinez, Social Media Manager
Thank You From Our Content Department
Our content department helps your voice be heard through the power of writing.
"I am extremely grateful that John gave me the chance to work for such a passionate and tight-knit team. Thank you for giving me the chance to use my passion for writing to the most of my ability. Thank you for believing in me and making me feel at home here at Imagine It Studios."
Abigail Vela, Content Writer
"John lives by the motto work hard, play hard–and he really drives his employees to enjoy our work-life the same way. He always promotes creative hubs between our teams and has taught me a lot about the nuances required while creating content with each other. If there is one thing I am definitely thankful for, it is having a boss with vision. Thanks for taking us along for that ride, boss."
-Karina Flores, Content Team Manager, and Editor 
"He's cool I guess." Just kidding!
-Osmar Alanis, Content Writer
Trust Digital Marketing in McAllen!
Our team at Imagine It Studios has a lot of pride and gratitude for the person who started it all: John King. If you want your business to grow with an enthusiastic team, then turn to Imagine It Studios digital marketing agency in McAllen! Learn more about our services! Send us a message online today to get started!